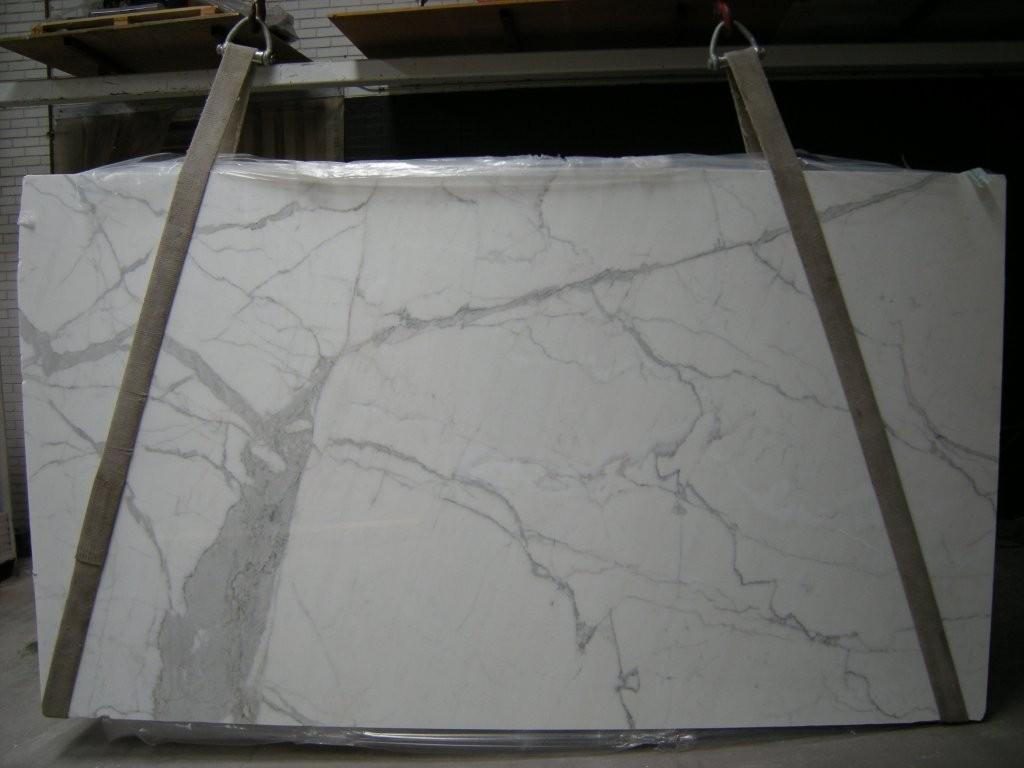 White marble kitchen counter tops are regularly featured in style and decorating magazines and web sites. Is it a good choice for you?
Good question…
You have to ask yourself how you live and what your preferences are. Beth Dotolo at Pulp Design Studios wrote a great piece at Houzz about the "pristine" countertop look favoured in North America compared to the worn "patina"preferred in Europe. For this "pristine" fondness, the more resistant granite is popular in North American residential kitchens. Check it out here.
Marble has been used on countertops, floors, and other surfaces throughout the world for decades. The Romans began extracting marble near the town of Carrara, Italy in the 2nd century BC, when quarry men cut the marble by hand with hammers and chisels at a rate of about an inch a day. In the 15th century, Michelangelo hand-selected blocks of the purest statuario marble at Carrara and had them carted to the coast and then barged up the Arno River to Florence where he carved his David. Other varieties of white marble have been used in structures such as The Parthenon, Taj Mahal and many other iconic projects throughout the world. Its applications are numerous and proven. It's literally been used for centuries. Today, 15,000 tons are extracted daily. Assuming you're settled on white marble, the next thing to consider is the aesthetic you're trying to achieve.
You can find striking marble counters and table tops in numerous upscale hotels, bars, restaurants, and ice cream shops. Assuming you're settled on white marble for your home, you need to consider is the finish you will choose.
Think about the "look" of your white marble…
HONED Look and Feel: Honed marble has a luxurious, matte finish and is smooth and velvety to the touch. A honed finish is more scratch, and etching, forgiving because it lacks the light-reflecting gloss of a polished marble. If scratches do occur, they are less obvious. However, honed marble can soak up spilled liquids more quickly.
POLISHED Look and Feel: A polish coating the marble also acts protection, therefore allowing it to withstand stains better.) However, the reflective characteristic of the finish will make scratches more visible. However, the reflective characteristic of the finish can make scratches more visible.
Myths vs. Facts
Myth: "The main concern when considering marble is staining" Fact: The main consideration when using marble in a location exposed to acids is etching, not staining. An etch, is not a stain; it is not a discolouration; it is a dulling, like a scratch.
Myth: "All marble will etch when used in a kitchen environment" Fact: Some harder marbles are fairly etch resistant and the use of non-reflective honed surfaces and proactive maintenance practices can mitigate the appearance of any etching that does occur.
Myth: "Marble is prone to staining" Fact: With proper sealing, many varieties of marble can be fairly stain resistant. A sealer applied to the surface acts as an insurance policy, affording a larger window of opportunity to perform spill clean up. Further, marbles have been used as countertops long before sealers were available on the market with satisfying results.
Myth: "Marble is way too expensive" Fact: With modern production techniques and a wide variety of quarries located throughout the world, marbles can meet a wide range of budgets, and in some cases, may be more cost effective than competing products.
Myth: "Marble, Granite and other natural stones emit radioactive radon" Fact: The notion that natural stones emit harmful levels of radon has been misreported. Funding for these studies has been linked to the manufacturers of synthetic countertop surfaces.
Questions? Comments? Contact us or Request a Quote on your granite, marble, or quartz stone project.