You might have heard of the term "two-tone kitchen cabinetry". We're going to explain what it is and why it's something you might want to consider.
As you may have guessed, the term refers to any kitchen space that combines two different colours or stains of cabinetry, unlike most kitchens that are designed to match. This combination can come in many forms. In some cases, it may simply refer to a kitchen where the island is a different colour than the cabinets. Or, it could refer to a kitchen where half the cabinets are one colour and half are another, contrasting shade. It could even refer to a kitchen that incorporates a painted colour and a stain.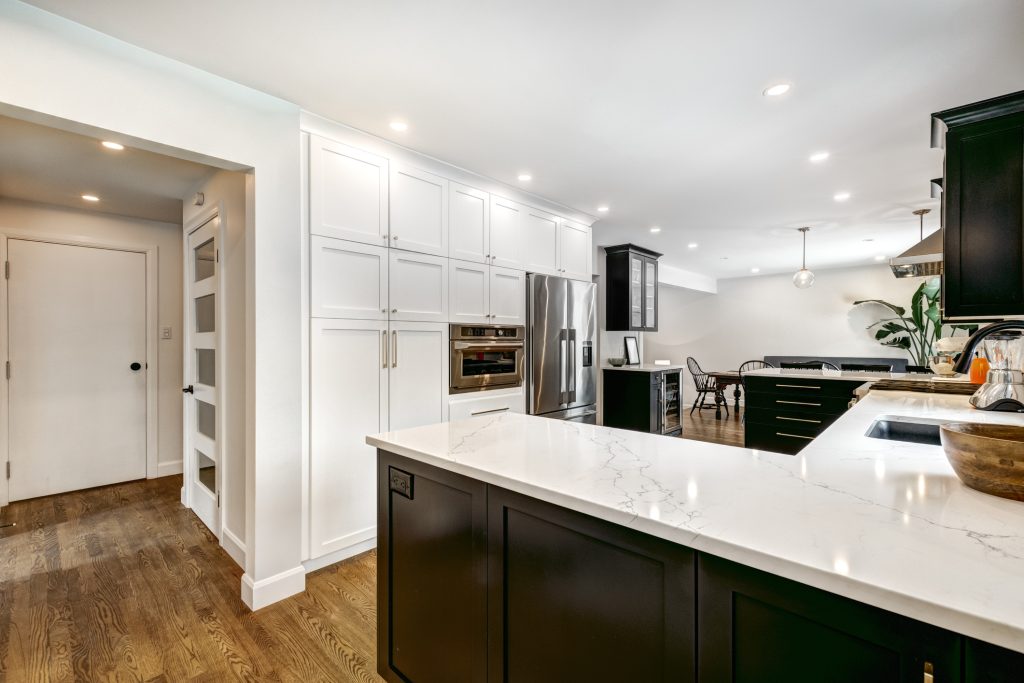 Historically, kitchen cabinets have always been a single colour and were not used as a means to create visual appeal in a space. They kind of blended into the background and homeowners would rely on funky wallpapers or paints to achieve distinction – but that's changed in recent years. Two-tone kitchens create a timeless and elegant hint. They embrace the obvious contrast and deliberately avoid uniformity. They're also a great way to create the illusion of space in a kitchen that's on the smaller side. By utilizing light upper cabinets with dark lowers, the eye is immediately drawn up giving the appearance of a larger space. There are some other ways to achieve the look, too…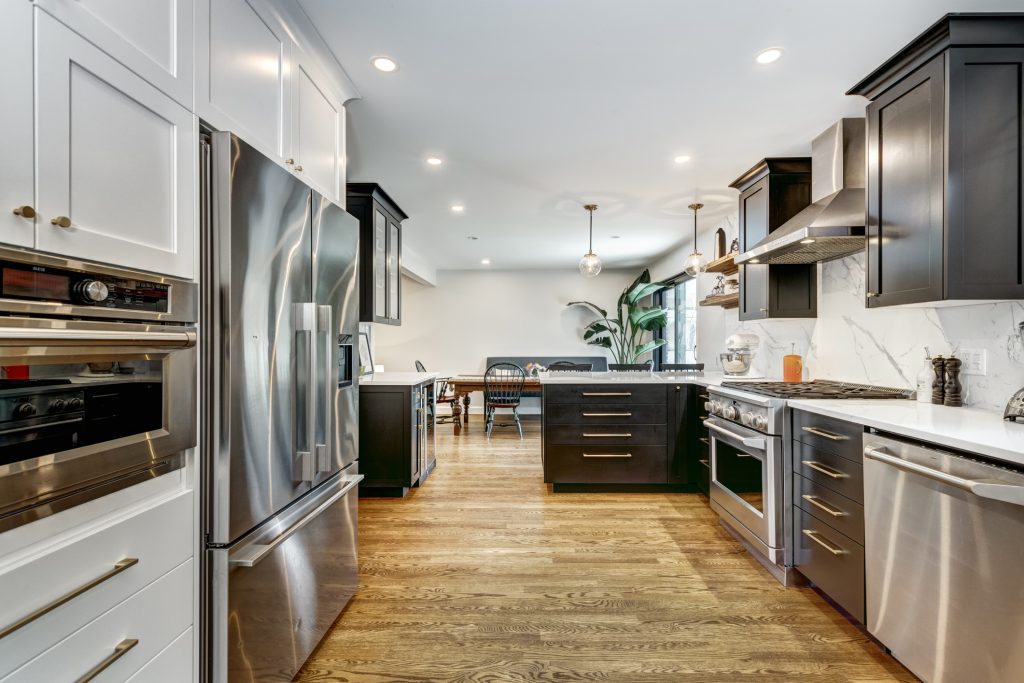 Instead of contrasting upper and lower kitchen cabinets, try colour-blocking and leaving one wall of cabinets a single shade while switching things up on another wall. Here, dark lower cabinets and white quartz counters and backsplash stand apart from a wall of white cabinets. This gives the space some serious dimension.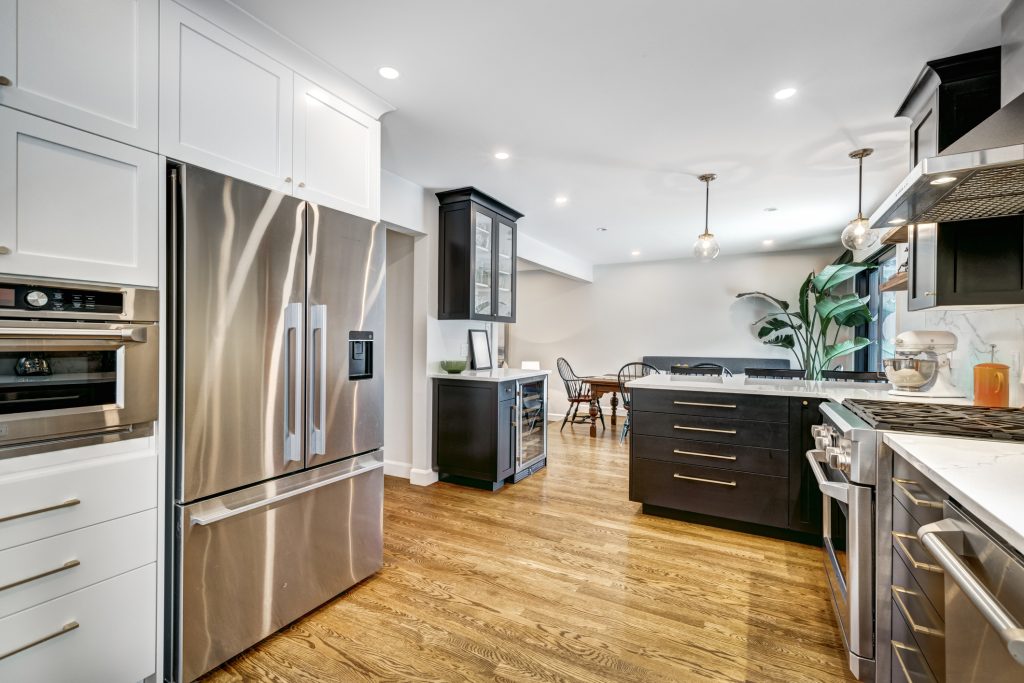 With two-tone kitchen cabinetry, there is one key detail to keep in mind: Each one of your cabinets should include some sort of coordinating/unifying element. Remember, when you have two distinct looks in the same space, it's important to include a few details that will make it clear that they belong together.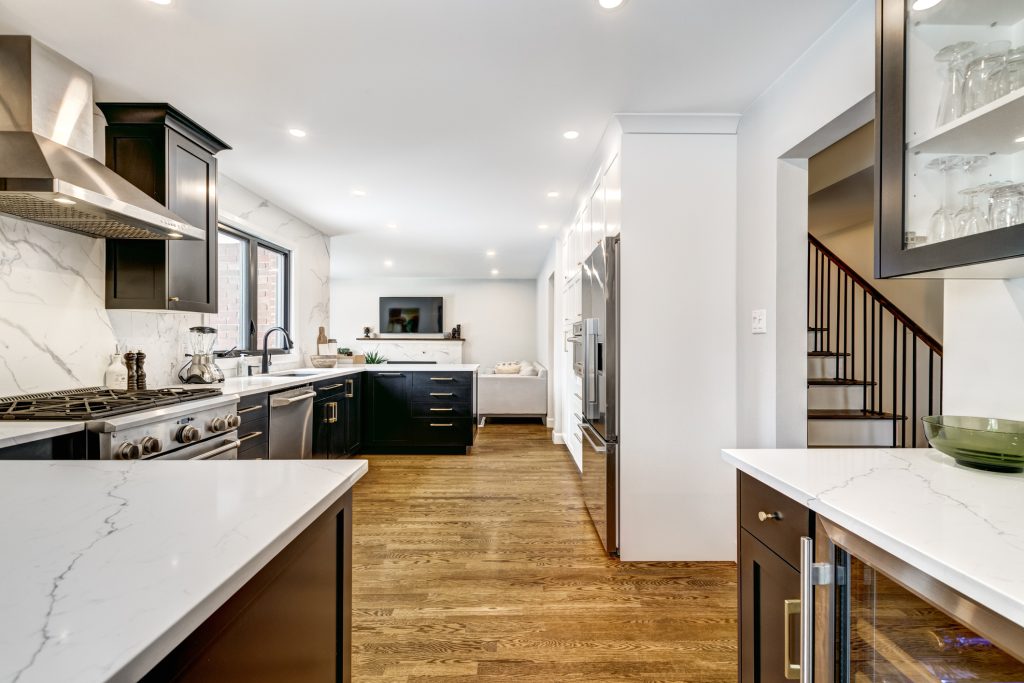 Hardware is the most straightforward approach, but you can also include common details and finishes. A best practice to ensure cohesiveness is to use the same material throughout the room and only vary the design in colour. This approach prevents the contrast from looking disconnected.
Planning on a kitchen renovation this year? Contact us, request a quote, or book an appointment to come and see us in our showroom. We're currently booking for early 2022 (winter and spring) production and installation.