The Essential Guide to Contemporary Kitchens
Create a livable, welcoming kitchen that blends modern and traditional style
Are you tired of your boring old kitchen? Looking to give your kitchen a real upgrade? People like you are a quickly growing norm in Ottawa. People simply want to achieve a more modern, and timeless look in their kitchen. The solution? Contemporary kitchens! Contemporary kitchens are a design choice that's getting people excited about their kitchens again. 
What exactly is a contemporary kitchen?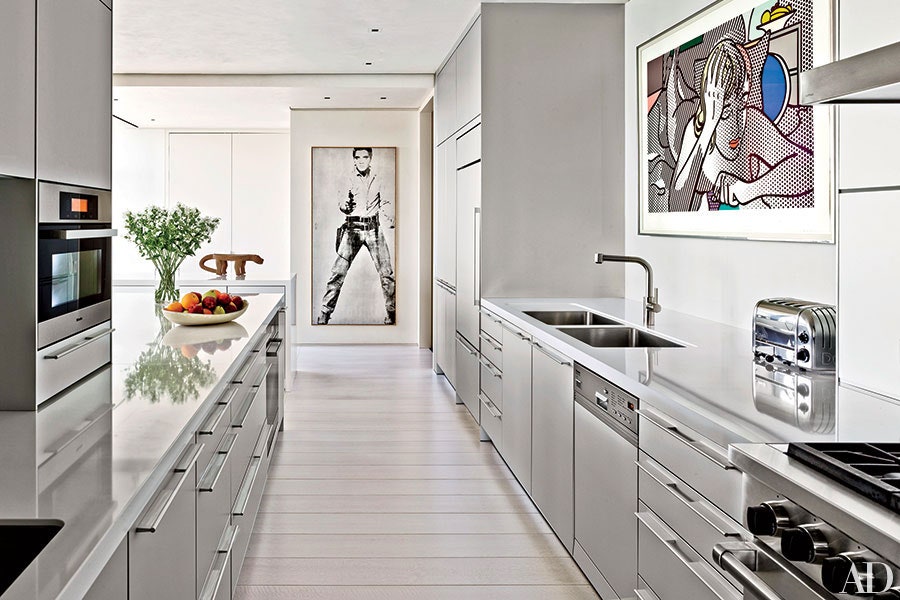 There are many different ways this take on kitchens can be done, but certain unifying features are what is going to really make it a contemporary one.
This sleek and minimalist layout is a real artistic take on kitchen design. Often characterized by sleek whites and vivid blacks, the colour pallete in these kitchens also often includes warm, welcoming colours. Although white is the most popular colour in these kitchens, you can really use any colour you wish. But be careful with it, the one thing that will wreck the contemporary look is clutter. 
Clutter can be anything from too many different colours, to too many textures or trinkets taking up counter space. You'll want to stick to the 60-30-10 colour rule for contemporary kitchens. This means 60 percent of the colour should be one main, powerful colour. 30 percent should be a secondary colour and lastly 10 percent should be an accent colour. 
If you're looking to give your kitchen a sleek new look that is both warm, and welcoming then read on! We're going to show you exactly what you'll need to achieve this sleek modern look. 
Vivid whites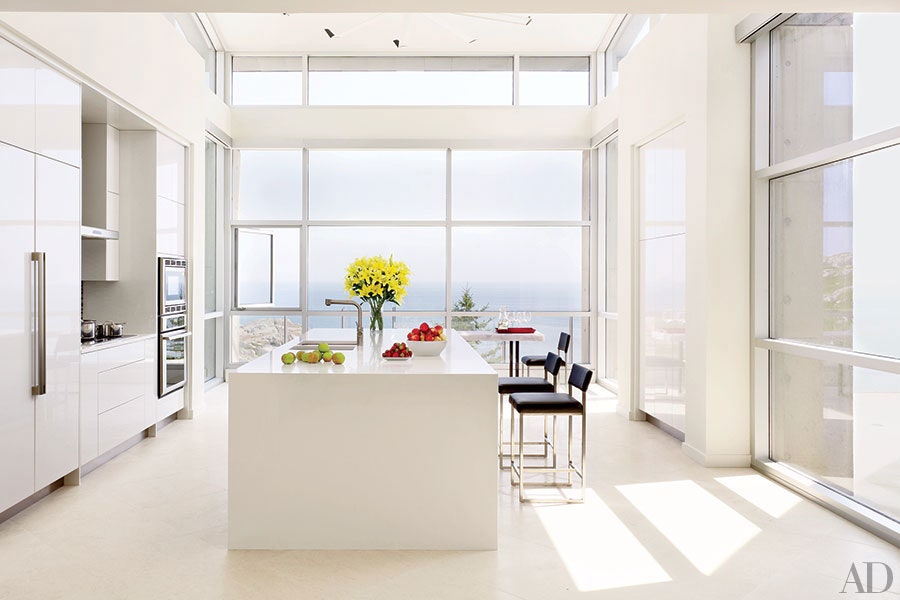 Possibly the number one thing that makes a kitchen contemporary is the vivid, sleek whites that are used in it's design. White also gives off a sense of "clean" and gets people the popular "uncluttered" look. You'll be able to spot dirt and cooking grime and clean it up with ease, while the design is easy on the eyes.  
Since white is neutral, it's most easily paired with essentially any accessory in a kitchen. Whether that's your appliances, your elegant cabinets, or stunning light fixtures, or even things like tiles, furniture and tables, white is the perfect colour that unifies this look. 
Not only is white neutral and blends well, but it also makes people feel a certain way. It's an inherently positive colour that is often associated with purity, goodness, safety, brilliance, cleanliness, serenity, softness and perfection. 
When you think of a contemporary kitchen you're often going to think of a warm and welcoming space that feels clean and organized. Looking at these words associated with the color white it's clear why its the primary colour of contemporary kitchens or roughly 60 percent of the kitchen's colour. 
Countertops
Make your kitchen really pop with a fresh, white, marble countertop. This countertop is extremely durable and can withstand everyday kitchen ware and tare while achieving an elegant, yet stylish focal point. Countertops make up a big part of your kitchen so we recommend they are a white colour. 
Kitchen Island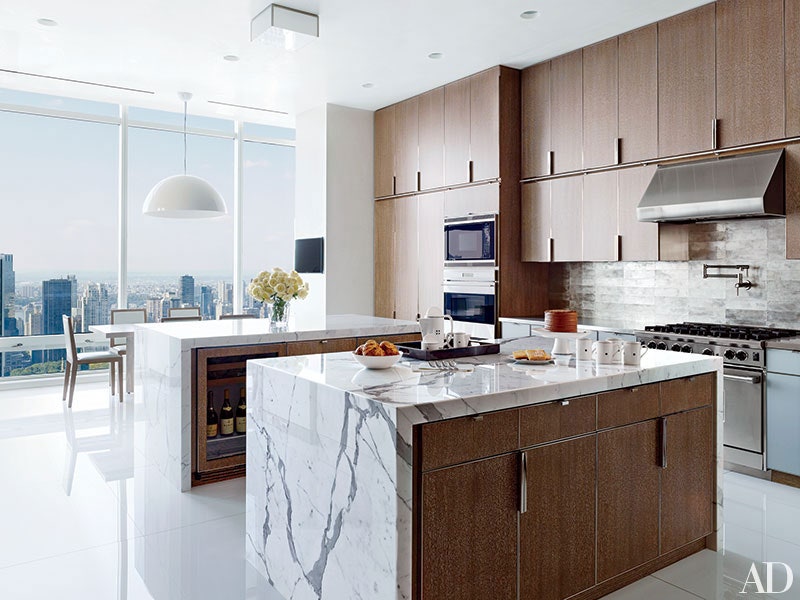 Done right, a kitchen island can be a central talking piece at dinner parties. A quartz or marble island can make your kitchen look both sleek, modern and powerful at the same time.These bright white quartz islands gleme with light and give off a clean and smooth look, one that complements your contemporary kitchen well. 
Minimalist Cabinets 
Don't let the word "minimalist" scare you. You can have gorgeous, luxury cabinets that can really tie your whole kitchen together. Contemporary spaces are started with a minimalist, and modern base. For this reason you'll want to look for sleek cabinets that will make your kitchen look crisp, clean and easy on the eyes.
Look for cabinets that almost blend in with the rest of the room. They should almost fade right into the walls of your kitchen. For this reason most contemporary kitchens and designers go with crisp, glamorous white cabinetry.
This does not mean you have to have white cabinets either though! You can opt for some wooden cabinets for more of a natural look. Make sure the colour suites the room though. You'll want to pick a colour and run with it. Just follow the 60-30-10 rule we mentioned or it will look cluttered.
Flooring
Flooring should be subtle in a contemporary kitchen. The most popular, best choices would be gray tile or white marble flooring. Our personal favourite would be white marble flooring. Marble floors will complete the overall contemporary "look" you're going for here really well. 
Stainless Steel Fixtures
Black appliances are simply not trendy anymore. People are being advised to steer clear from these appliance colours. They are being seen as dated now. 10 years ago they were all the rage but that's simply not the case anymore. 
Instead we recommend you opt for trendy, stylish stainless steel appliances. A powerful way to make your kitchen blow people away is to make use of stainless steel appliances. 
Steel goes really well with the sleek, white colour that goes with white contemporary kitchens. Not only does steel pair so well with white, but it also balances really nicely with warmer, natural wood tones that are popular in contemporary kitchens. 
Becoming more and more popular is stainless steel, gas stoves and matching stainless steel hoods/ventilation. Not only do these steel stoves look stunning and elegant, but they work extremely well. Have a power outage? Don't worry you can still cook dinner on your gas stove! 
We would also recommend stainless steel lighting and pendants. A popular style is geometric steel lighting. Go for some chic kitchen lighting here. This style pairs really well with the contemporary kitchens. Not interested in steel lights? You can opt for glass orbs as they also pair well with contemporary kitchens. 
Make a statement with colour
The perfect spot to add some colour and life to your kitchen is your backsplash. Many designers are using tile to create a focal point in the kitchen. We're seeing more and more people using glass, mosaic backsplashes to do just this. Gorgeous handmade tile can be found right in Ottawa at our showroom, come check it out.
Alternatively you can use black tiles to create a sharp contrast between crisp whites of your countertops and your white quartz island. The backsplash is a great place to give your minimalist kitchen some much needed contrast and colour, so let it guide the look of your kitchen. 
Get creative with it! This can be part of the 30 percent of "secondary colour".   Making this the same colour as your cabinets, floor and counters is a surefire way to turn your minimalist kitchen "dull and boring".
Achieve a natural look
An often overlooked aspect of contemporary kitchens is the implementation of nature in the kitchen. Earlier we mentioned that contemporary kitchens need a splash of colour. Otherwise your kitchen isn't going to look contemporary, but rather medical. Add in some local, living house plants and literally liven up your kitchen. This is the perfect way to get the 10 percent accent colour we mentioned earlier. 
Don't have a green thumb? You can achieve this in a variety of ways. Most people today are doing simple things like laying out a bowl of fresh fruit or flowers on their kitchen island. 
Another way you can do this is by using beautiful hardwood flooring, or wooden chairs around your kitchen island. Wood chairs will pair well with a white, quartz island. It will really hemmer home your contemporary kitchen and will give your kitchen a nice contrast between the white quartz counters, marble floors while also providing some nice texture changes. 
Natural light 
The most overlooked part of contemporary kitchens is the use of natural light. You don't have to, but if you're looking to get this natural look you may want to look into getting some windows upgraded. Now if you're in a low light neighbourhood and don't get much light in the day then this may not be for you. If you're house is in the country or by a waterfront you'll want to use this to your advantage! 
Let as much of that light in and really brighten up your kitchen! Not only will it give your gorgeous kitchen a beautiful shine, but it will showcase the natural beauty of your neighbourhood. 
Already started or just looking to make a small (yet powerful) 
Whether you are looking for more inspiration when planning your new kitchen renovation, or you're already started and need something to really "complete" your contemporary kitchen our design team can help. From getting the luxury cabinets you want, to flooring, tiling and stone slabs we do it all. Yes that even includes installation! 
We've been helping homeowners and designers build the kitchens of their dreams for over 30 years. Our professional local team is here to help you. Explore our finished projects gallery for some great ideas on your renovation. 
Thoughts? Ideas? Visit us in our showroom and design centre, contact us, or Request a Quote on your granite, marble, or quartz stone project.