The Farmhouse Kitchen: The Definitive Choice For Ottawa's Cottage and Country Community
Farmhouse kitchens combine warm and rustic for life in the Ottawa valley and Quebec's lakeside and village communities
Ottawa has a growing community of cottage owners and former city dwellers moving to small villages to set the tone of retirement and a decelerated and meaningful pace to the day to day. The country life's appeal in small townships like Almonte, Wakefield, Perth, and Arnprior are undeniable. These bedroom communities offer a lifestyle oriented shift for the national capital's growing community of near retirees and retirees that focuses on a slowed down mode of appreciating the finer things in life – like good food, good company, and family. It's a window into a world outside the rat race – one without tiny apartments and bumper-to-bumper traffic. The national capital region even has a new development in Chelsea dedicated to this kind of lifestyle in Hendrick Farm. That country look in a kitchen is the rage. In Houzz's 2017 Kitchen Trends Study, U.S. millennial respondents (ages 25 to 34) named farmhouse kitchens their preferred kitchen style.
A farmhouse style kitchen is one of the hallmarks of lake properties, village houses, and country homes. Farmhouse kitchens are welcoming environments that are humbly comfortable. According to The Kitchn, one of the reasons why the farmhouse style has become the go-to look for designers and home renovators alike is because it's easy to make work. As designer Shea McGee of Studio McGee explains on her blog…
"It's laid-back, warm, and feels like home. From styling open shelving to decorating your counters, you can blend farmhouse style into almost any kitchen."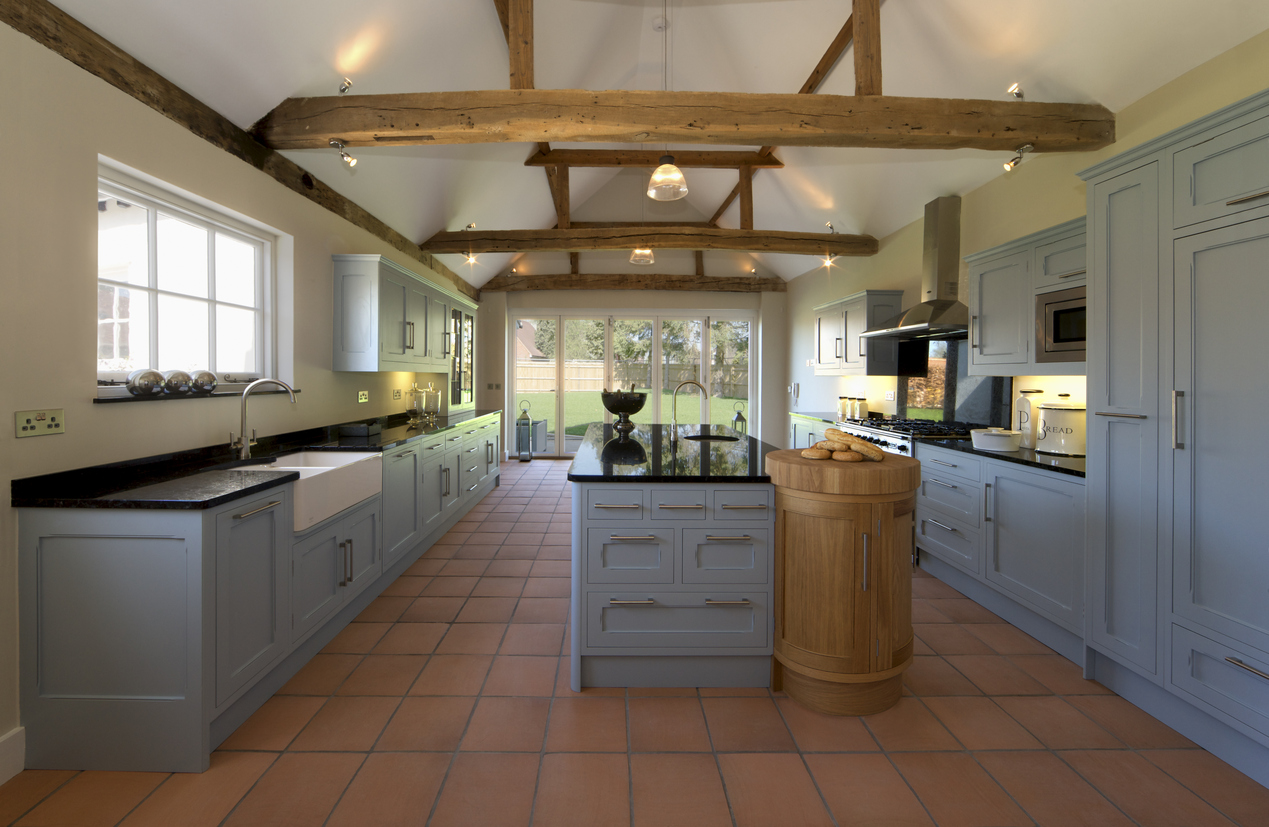 Farmhouse style kitchens are defined by some key features and elements. Apron-front sinks: In most cases they're ceramic but they're also sometimes made of metal.  They're charming and utilitarian. They're a great way to add style to lower cabinets and they're usually deep, so they can hide a ton of dishes during a dinner party. Shaker-style cabinetry is another defining feature. Shaker-style cabinets are often painted white, light or dark gray, navy to sky blue, or even a minty green for a farmhouse look. Finished or reclaimed wood accents – whether a butcher's block, wood floors, the base of an island, or even exposed wood ceiling beams. Vintage or weathered accents are also appropriate in this style.
Joanna Gaines (who is widely credited with making the farmhouse style popular) of HGTV's Fixer Upper offers tips for adding farmhouse-inspired character to a kitchen.
The general opinion is that the best farmhouse kitchen styles include natural stone – especially granite. Houzz published a series of inspiring farmhouse ideas that utilize granite as the surface of choice. You can find them here. This style can also be applied with a modern or contemporary feel, where quartz counters work especially well. We're a preferred partner of Caesarstone in the Ottawa-Carleton region. They put together some fantastic applications of their quartz product here for some inspiration.  The Spruce published a compelling series of examples of this a couple of weeks ago. You can find it here. Tiles also play an important role in achieving this look with a kitchen reno in a country home or cottage. You can check out some trendy tile selections here.
Thoughts? Ideas? Visit us in our showroom and design centre, contact us, or Request a Quote on your granite, marble, or quartz stone project.